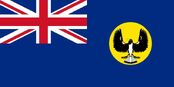 South Australia is a country on Earth, and it was once an empire. It is by the Pacific Ocean. In 4340 South Australia became a democracy. Its first Prime Minister was called Barclay Gilberto Keh. The longest river in South Australia is Murray Darling. Great Imperial Martian and Italian are the official languages.
Ad blocker interference detected!
Wikia is a free-to-use site that makes money from advertising. We have a modified experience for viewers using ad blockers

Wikia is not accessible if you've made further modifications. Remove the custom ad blocker rule(s) and the page will load as expected.