Earth
Earth is a planet in
The Solar System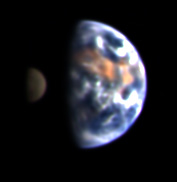 .It is the origin of
humans
and
ravens
.
It was created roughly 4 billion years ago, but then it was a rough, volcanic planet with no atmosphere and a few rings. It was also a lot smaller. The moon then collided with Earth, providing it with the water essential to life. It cooled the magma, as the moon sucked up the Earths rings and became its moon. Without the moon, the Humans and Ravens would never have existed. This planet has many, many languages (even plants, which are not intelligent, have languages) and some of them are randomly listed here:
American
Galician
Cherokee
Spanish
Faroese
Ad blocker interference detected!
Wikia is a free-to-use site that makes money from advertising. We have a modified experience for viewers using ad blockers

Wikia is not accessible if you've made further modifications. Remove the custom ad blocker rule(s) and the page will load as expected.