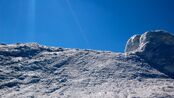 2 Pallas, more often is called Pallas, and is an Asteroid. 25,425 BC some Centurians started terraforming Pallas. 305 years later it was totally terraformed and they started living there. It has a heavily clouded atmosphere, and from outer space it looks white. The population in the 836th Century of 2 Pallas was 525,000.
Ad blocker interference detected!
Wikia is a free-to-use site that makes money from advertising. We have a modified experience for viewers using ad blockers

Wikia is not accessible if you've made further modifications. Remove the custom ad blocker rule(s) and the page will load as expected.